Regulating Authority Comparison
Moving products overseas often starts with a sample evaluation by the end user, even if a Certificate of Analysis or other product information is available. Care must be taken to ship samples safely and compliantly, just as if it were a full shipment of the product itself.
Since samples are usually small quantities, their shipment to international destinations can be expedited using air freight. For materials displaying certain chemical and/or physical hazards, sample shipments may be regulated under the following:
PHMSA HMR, or the Pipeline and Hazardous Materials Safety Administration's Hazardous Material Regulations under the United States Department of Transportation, or USDOT – for all modes of transportation, including by air, and/or
IATA DGR, or the International Air Transport Association's Dangerous Goods Regulations
There is significant overlap in rules and regulations. Most notably, both sets of regulations define 9 hazard classes, some with sub-classes or divisions. While USDOT regulates all modes of transport (highway, rail, vessel, and air) within the United States, IATA deals only with regulations involving air transportation of Dangerous Goods internationally. On shipping papers, with few exceptions, if you are following IATA regulations you will be following the necessary USDOT regulations as well. For example, when shipping a methanol sample by air, while USDOT lists both the domestic Class 3 shipping description as well as the international Class 3(6.1) shipping name, IATA lists only the international description for methanol, and that is what should be used for shipping outside of the U.S.; however, the international description is also acceptable for domestic air shipments since it is recognized by USDOT as well.
Packaging
Regulatory differences most frequently occur in the regulations dealing with packaging and handling, which are meant to deal with hazards specific to air travel, such as wider temperature and pressure changes. Also, due to the much greater risk of a transportation incident turning catastrophic by air as opposed to by highway, allowable quantities per package of Hazardous Materials and/or Dangerous Goods are severely limited, including the amounts allowed in each inner package if a Combination Package is used. These rules are spelled out in the Packaging Instructions referenced by each entry in the Dangerous Goods (DG) Table. So different packing groups, which denote the hazard severity of a Dangerous Good, will often have different packaging instructions. Some Dangerous Goods will be shown in the DG Table for the sole purpose of instructing that they are forbidden by air transportation altogether, or that they may go by Cargo Aircraft Only, which requires a special mark on the package published by IATA. Packaging Instructions also include three-letter abbreviations for nations (States) and two-letter abbreviations for airlines (Operators) that have additional transport regulations or restrictions on file with IATA. These restrictions are detailed by number in the Limitations section of the IATA DGR.
USDOT issues several Special Permits regarding specific packaging which may be used. The Special Permit itself will stipulate the conditions under which the package may be used—i.e. quantity, or type of Hazardous Material. These specially permitted packages are popular for shipping Hazardous Material by all modes, including air within the U.S., because they allow relief from certain regulations, such as no requirement for hazard labels, which in turn relieves the package from being counted towards any placarding requirements. These packages are usually tested and rated by United Nations standards and may still be used for shipping internationally. However, it is suggested that any regulatory relief offered by the Special Permits are NOT taken when shipping outside of the U.S. unless it is known that the receiving nation recognizes the USDOT Special Permit. As it is often pre-printed on the shipping container, any reference to a special permit or its conditions should be obliterated on the package if it is not being employed.
The Dangerous Goods Shippers Declaration
The Dangerous Goods Declaration is the internationally recognized shipping document for the transport of Dangerous Goods by air. It has a mandatory red hash border as shown.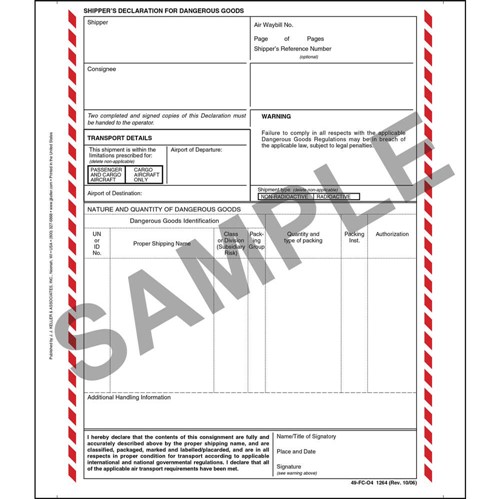 Training Requirements
Personnel training is required every two years to remain compliant with IATA requirements and to have authorization to package Dangerous Goods and sign the Shipper's Declaration. To the extent USDOT regulations are employed as well, that training must be completed or refreshed every three years.
Operator Software
Many larger carriers like Fed-Ex highly recommend the use of their software to generate air-bills and Shipper's Declarations for Dangerous Goods shipments. Research and care must be taken in order to enter an international address within the confines of the U.S. standard "street, city, state, zip" fields used by the software. Some software has an "address check" function to ensure proper delivery, but that function may not be available with international shipments due to the format differences.
Ask the Author a Question