As part of our commitment to powering a circular economy we are introducing the WTS Materials Hub. This listing of by-products and co-products available to purchase for reuse gives companies an opportunity not only to save on the costs of raw material sourcing but also to reduce the embedded emissions in their supply chains.
Sustainable Materials Management (SMM) is the WTS process designed to use and reuse materials more productively over their entire product lifecycle by objectively evaluating material inputs and outputs, and responsibly connecting producers and end-users of by-products and products, thus increasing circularity. Our SMM service solutions are designed to address material properties and composition at their points of origin, while bridging logistic infrastructure in a manner that will create value.
WTS has established a pre-qualified network of manufacturers, distributors, and chemical reclamation suppliers along with an experienced team of engineers, chemists, environmental managers, and information management specialists that collectively enhance sustainability performance along the chemical supply chain.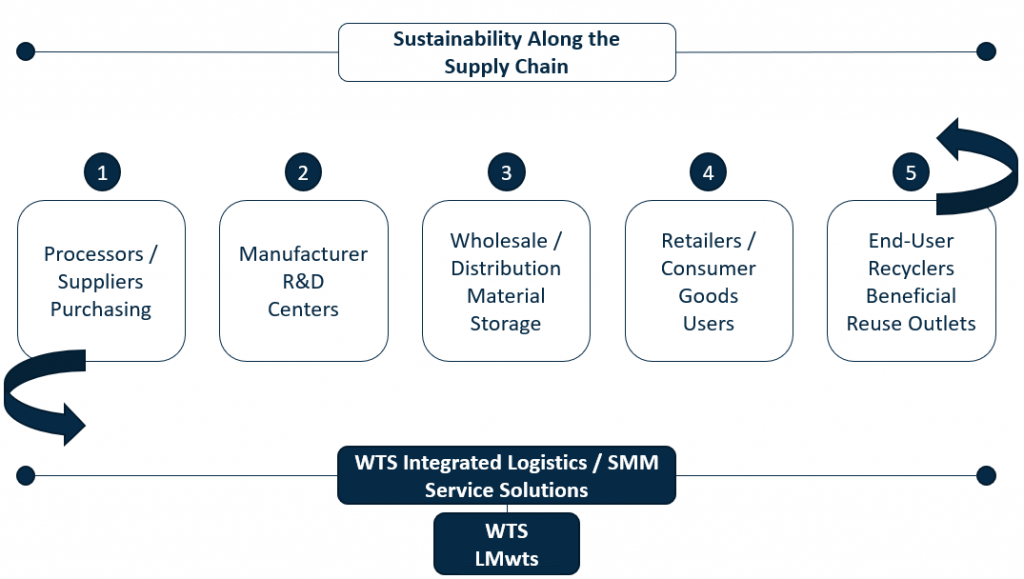 Our SMM solutions are custom-designed to logistically connect producers, distributors and end-users of various categories of reusable materials, for example:
Chemical solvents, including: alcohols, acetates, amines, glycols, ketones
Chemical catalysts
Inorganic and Organic Chemicals Products as well as by-products
Acids and Alkaline Solutions
Petroleum-based fluids and discarded fuels
Filter media and Spent Absorbents
Fiber, Plastic, Apparel, Glass, Rubber and Metal commodities
Maintenance / Cleaning, Utility and Wastewater Treatment Chemicals
Coatings, paints, adhesives and specialty chemicals
Packaged Consumer Goods